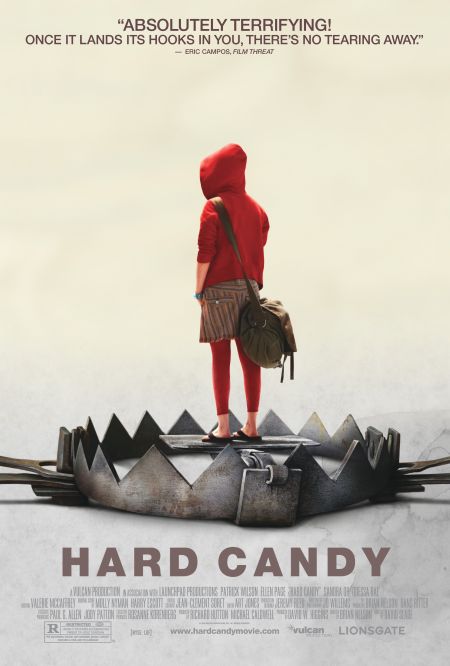 definition of "Hard Candy" : 'An underage girl - often aged 12 to 16 - who is particularly attractive and/or gullible. In other words, a pedophile's dream.'
i've started this review several times in my head and here on the screen, but it's hard to begin a review about a movie inolving a man intent on having his way with an underage girl.... it's not like i can say i love this movie.... it just wouldn't seem right with the subject matter.... but it's so well done that i can't come up with any other ways to put my basic thoughts into words.... this film is several films in one.... it's a modern day 'Extremities'.... it's an 'After School Special'.... it's a revenge thriller.... it's a film about torture.... i can't really put my finger on one way to look at it.... and the more times i see it, the more impressed i am with the acting and the fact that two actors can carry almost the entire movie with dialouge and some intense action.... in many ways it's like a play.... and these are the type of films that tend to leave the biggest impression on me.... because it takes skills to hold the audiences attention when very little is actually going on.... but Ellen Page and Patrick Wilson seem to do it with ease.... almost if their not even acting at all.... as if you're a voyeur looking in on this sick little game as it unfolds....

now this is a movie i've owned for a few years now.... and everytime i watch it, it still packs a punch.... the fact that the predator becomes the prey.... but not only the prey.... the prey of a 14 year old girl.... this was the last thing i expected to see the first time i watched it.... and despite the fact that Ellen Page was actually 18 at the time the movie was made, she embodied the persona of an overly intelligent 14 year old with bad intentions.... however, because the character that Patrick Wilson is playing is so downright scummy, you can't help but root for our youthful heroine.... now one thing that i've come to wonder over several viewings is, what if Ellen's character isn't really 14 and just pretended to get this man's attention.... obviously she know's what he's done and is out for her own kind of revenge.... but what kind of a differnt spin does it put on the film with her being older....? granted, i don't think she is supposed to be anything but the 14 year old she portrays.... it's just something that crossed my mind and if you've already seen the film, you can ponder the theory....
obviously, the plot involves a man in his 30's meeting up with an overly flirty 14 year old girl.... they meet at a neutral location where after some coaxing from her and a little mind games from him.... they go back to his place.... where upon getting there things seem to be headed in all the wrong directions.... he seems to have the upper hand being at his own home and it's obvious what's on his mind.... they make no bones about the reality of what the situation is.... and she does her fair share of playfully leading him on.... so we, the audience, is lulled into a sense that this is the start of some kind of fling or something.... however, when you least expect it, the tables are turned.... she drugs him, ties him up and begins to question him.... well more like grills him about everything in his life.... slowly digging away at the inner demons that haunt him.... and that have made him the predator that he is.... soon talk isn't enough and she begins to torture him in ways to push him to his limits.... this is where my version stops and the rest you have to see for yourself.... it's a nailbiter to say the least....
this movie really is a close cousin of the film/play 'Extremities'.... as a matter of fact i directed this play in college and it had a profound effect on the audience and actually brought one woman to leave the theater as she had her own past experience that mirrored some of what was happening on the stage and it caused her to relive it.... (not my intention, but a strange compliment to the actors).... if you're not familiar with the storyline in 'Extremities'.... it involves a woman at home alone who is suddenly visited by a man.... he comes into her home with the intention of doing things to her against her will.... but she gains the upper hand and turns the tables on him.... suddenly he's the victim and she does what every person in that situation dreams of.... the only differnce between the two stories are the ages involved and the fact that in 'Extremities', the role reversal wasn't pre-planned.... it's another film that i would recommend as a bookend to this film and it's available OnDemand on Netflix right now.... it stars Farah Fawcett in an unlikely role for her.... but she does a wonderful job....
if you haven't seen this film, i hope that i've at least peaked your interest.... it shows that a young Ellen Page has some serious acting chops and could be an Oscar contender at some point in her career.... whether you love her or hate her, it's going to happen.... granted she's been a bit oversaturated in the movie marketplace thanks to the travesty that was 'Juno'.... but after you see this you can forgive her for that.... i think this film is required viewing for those who want to see something different and something that will make them think.... it's a bit of a morality tale.... something where regardless of how bad the man is made out to be in the movie.... does it truly justify the actions of our teen....? does she have the right to be judge, jury and possible executioner....? you also find yourself wondering the whole time why she's willing to take such a huge risk to her own safety.... as you see in the movie, not everything always goes according to plan.... in the end, however, it all makes sense and you find yourself wanting to re-watch it right away with the new understanding of the motives behind the madness....
i proudly give this 5 out of 5 stars.... it deserves every one of them.... and a lot of credit goes not only to the actors, but to the director.... this was his first feature film and all he had in his credits beforehand were music videos.... so hats off to him.... hopefully he continues to make engaging films like this one.... this movie may not be everyone's cup of tea as the subject matter is touchy and something not usually brought to the screen.... it's tiptoed and whispered about, but not shown.... and i think it's important to get the message out there that predators are everywhere and with the dawn of the internet it's so much easier for them to gain access to your children.... they have a gateway right into your home on your child's desktop.... is some ways it's empowering to a young woman to see what unfolds.... but it should be tempered with a dose of reality.... that Ellen's character was playing with fire and was always close to getting burned.... so with all of that being said.... go watch it.... it's available everywhere and should not only be seen, but absorbed.
if you enjoyed this film, see: 'Extremities' it's the only thing even close to this that i can think of