i've been the first in line to say that Eli Roth is one of the savior's of the horror genre.... along with a few select others.... he wrote and directed the original 'Cabin Fever'.... this movie has nothing to do with him.... and Ti West who directed it, wanted no association with it once the producers got done with it.... he felt they ruined it.... granted, i have no idea what it would have been like if they never got involved.... but i'm not so sure it would have been that much better....if you saw the original then you know the basic premise.... a flesh eating virus is killing off people one by one.... and luckily it hasn't spread outside of the small town where it started.... in the sequel, it picks up RIGHT where the last one left off.... and continues the story.... but not for long.... and once the plot of this movie begins, the movie bears little resemblance to the original.... in this case.... the water that is contaminated with the virus has been shipped out.... and the first place it goes is to the local high school.... the rest kind of writes itself.... ie: bloody high school kids, attempts to stop the virus, the government getting involved.... etc.... your typical virus scenario.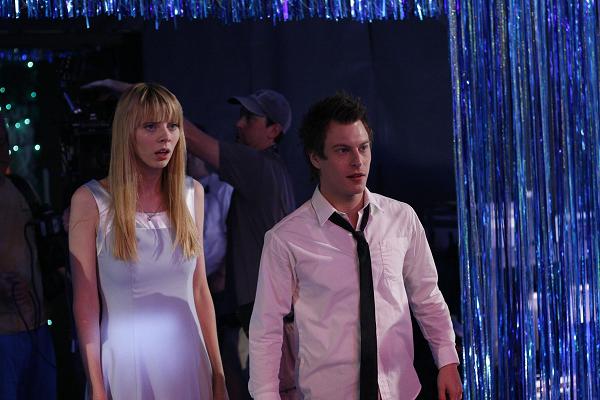 the first point where this movie fails is that it goes to much for the humorous side of the storyline.... granted the original was satirical and had it's comedy moments.... but it never went all out for the ha ha funny.... this one does.... or seems to.... and it doesn't do it very well.... the virus has no real rhyme or reason and doesn't react the same with everyone, like in the original.... and they go for the gross out factor in a major way in this.... and turn it comical.... whereas the original never took the effects of the disease as being funny.... those parts were always serious....
would i recommend this....? well, if you're a completionist like me.... then you'll want to watch it.... just be warned that it really doesn't hold a candle to the first one.... the only worthwhile thing is the return of Officer Winston.... i would give this a solid 3 out of 5 stars.... but no more than that.... i would love to see the directors cut.... and find out what he was really going for.... because i can't imagine what he could do differently to salvage the script for this.... i mean, the disease at prom....? save your time and watch 'Dance of the Dead' instead.... MUCH better movie about the prom and zombies....
if you enjoy this movie, check out: 'Dance of the Dead', 'Prom Night' and 'Return of the Living Dead' (not really virus movies, but prom themed and i guess you can qualify zombies as a virus based reaction to something nasty.)