this movie is an excercise in excess.... plain and simple.... after the success of the first one, they had to step it up to making it bigger and badder in every way possible.... more big name actors, more bad guys, bigger explosions and lots more Iron Man.... now in some cases that may be a bad thing.... but in the case of 'Iron Man 2' i think it was almost needed.... i mean, the first one was done so well that it would be hard to top without going over the top.... granted the storyline isn't quite as good.... but who cares....? i loved watching War Machine come to life.... i loved to see Mickey Rourke do his thing.... i could have done without the Scarlett Johansson, but i think anything she's done after 'Ghost World' has been mediocre and i don't quite get the whole fascination.... (sorry guys.)....
the plot involves Mickey Rourke's character coming from Russia to get revenge on Tony Stark for his fathers sins.... meanwhile the government wants Iron Man turned over to them for use in the military.... and another weapons manufactorer, played by Sam Rockwell, is out to get the Iron Man suit to mass produce for themselves.... meanwhile Tony Stark is slowly dying.... S.H.I.E.L.D. is trying to recruit people for the Avengers project.... and that's just the broad overview.... there's a lot more of a lot more going on amongst the big bangs and pows....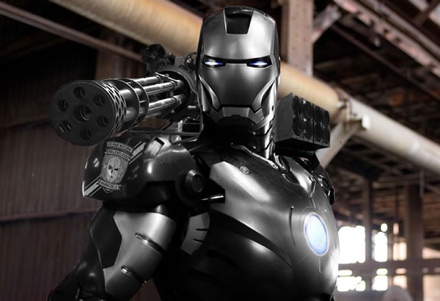 i personally found this to be a fun romp at the cinema.... something to be seen on the big screen and something for the summertime.... it's not going to win any awards other than for it's special effects.... but you don't go into a super hero movie expecting Shakesspeare.... or at least i don't.... there are rare exceptions, but very rare.... i really enjoyed all aspects of the movie and will be adding it to my DVD shelf right next to the first one.... and will do a double feature at some point.... it's a well put together film with a lot going for it.... i've read negative things about it.... however, i wonder if the critics are just expecting too much from a comic book action movie.... i was impressed and felt like a little kid again enjoying the cool stuff that was going on right before my eyes and i suspended disbelief so i could become that much more involved....
i give this 4 out of 5 stars for the fun factor and kick ass effects.... not too mention i loved almost every actor involved.... Jon Favreau went out of his way to check my list of favorite actors and pick out some of the top ten.... this is the perfect example of what a blockbuster should be.... and i hope that they consider a third film with Favreau at the helm.... he's proven himself yet again as a good director and with the characters and world he's established, i want to go back there again and again.... to hear the mechanics whir in Iron Man's suit to the clang of his fist hitting the metal of other robots.... it's all just a blast and a good way to cleanse your brain every once in awhile from the bad movies, cerebral movies and the movies that you just need to escape from.... i highly recommend this to people who loved the first one and who like a good popcorn action flick.... not too metion it's fairly safe for the kids too.... a little bit of language here and there.... but it's over run by the action going on that you hardly notice it unless you're listening....
i'm looking forward to seeing it again.... if for no other reason than to see War Machine kick some ass.... oh and one final thing.... stay until the end of the credits again.... there's a suprise waiting for you.... and if you're a comic book fan, you'll dig it....