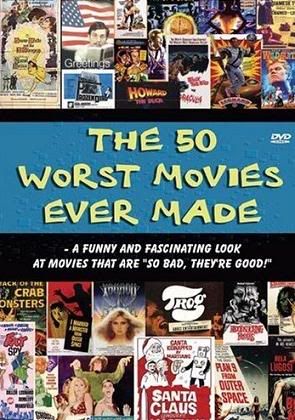 being a lover of all movies and films.... i'll watch just about anything once and i love bad movie.... the ones that are so bad they're good are even better.... anyway, i thought this documentary might prove as a fun little watch, as well as a possible resource for some new flicks to see.... granted, this movie is by no means comprehensive.... there are some glaring omissions.... (where's 'Troll 2' for the love of pete....?!?!)
it's kind of a silly little movie.... the way it's put together.... and at a running time of only 60 minutes, there just isn't enough time to enjoy the little gems they introduce you too.... i could have stood for this to be a full hour and a half or more.... just to get a little more in depth.... but it's a good list.... even though i've seen a good portion of the movies.... there were still some located in there that i haven't seen before.... and believe it or not, most of them are available to rent on Netflix....!
3 out of 5 stars.... something for the bad movie lovers in all of us to enjoy.... and if you don't enjoy them already, you're missing out.... and if you've ever been curious.... this may be a good place to start.... long live terrible movies....!

if you like this, check out: well, there aren't any other docs like this out there.