As a lover of cinema, I watch a lot of stuff. Sadly, I don't have the time, energy or even desire to write reviews for everything I see. Rather than to just continue to let these movies sit on a list, I've decided to post them here with a rating and maybe a little word or two. If you trust my judgement or agree with me on my decisions, then maybe this will be helpful to you in finding some keen new stuff to watch. I think it will also free up my mind a bit to see a much shorter list of things to review in the future. That being said, here we go!
----------
Once I started this movie, I realized that I was pretty sure I'd already seen it. For some reason, I watched it until the end, again. This movie is terrible.... forget all the praise it may or may not have received, it's bad. 1 out of 5 stars.
(A trailer exists, but it is harsh and contains stuff that I don't want you to have to see.)
----------
If you like any of the four comics featured in this stand up comedy movie, then you'll like the whole thing. 3 out of 5 stars.
----------
The sequel to the original, more of the same from the same four comics in the first one. 3 out of 5 stars.
(No trailer exists for this direct to DVD release.)
----------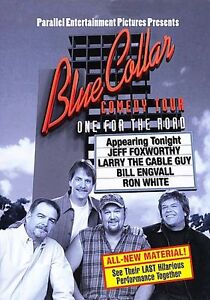 The last installment with the original four comedians. Not the funniest one. 2 out of 5 stars.
(And this final installment with the original four members has no trailer.)
----------
I had no expectations going into this movie. It turned out to be a decent little horror flick, although it couldn't quite decide if it was a zombie/plague movie or not. Also, a slightly unfinished ending. A solid 3 out of 5 stars.
----------
I'm still not 100% sure about this cartoon. It was really well done, but it's kind of dark and adult for kids. I enjoyed it and would love to watch it again, by myself. That way I could get a better feel for it. 4 out of 5 stars.
----------
All of the guys in the Broken Lizard Comedy Troupe are charasmatic and funny. They are just fun to watch, no matter what they're doing. That's what made this stand up/skit comedy DVD worth my time to watch. If you like them, see how they started out with this stand up comedy special. 3 out of 5 stars.
(No trailer for this movie, but lots of clips from the DVD on YouTube.com)
----------
In this comedy from writer-director John Hamburg (I Love You, Man, Along Came Polly). You have Mark Ruffalo, Sam Rockwell, Paul Giamatti and Steve Zahn in this comedy and it's well worth the watch. A sweet little comedy and one showcasing some big talent early in their career's. 4 out of 5 stars.
(Oddly enough, but there is no trailer available for this movie.)
----------
Wes Craven has done great things in his career, this could have been one of them. This movie has a lot going for it, sadly it just doesn't all click. The ending is kind of confusing and seems to be trying too hard. I am not sorry I spent time watching it, I just wish it could've done more with the source material. 3 out of 5 stars.
----------
I had hopes for this movie. I had heard good things. In the end, I wasn't impressed. The ending was the only part that I found really exciting. 2 out of 5 stars.