who doesn't like Norwegian horror, right....? oh wait, you haven't seen much or any before....? well, here's your chance....! it seems that lately, some of the best horror has been coming from overseas.... it seems that there is still some art left too it over there.... and even ideas that we've all seen before or unoriginal themes, take on a new life and feel fresh.... this movie is the perfect example of that.... not unlike 'Let The Right One In'.... i mean, it was a vampire movie.... but it was anything but your atypical vampire movie.... and it was artistic and amazing....
some could compare 'Cold Prey' to 'The Shining' and a slew of slasher based movies.... and both would have some truth to them.... however, the commonhood they share only goes so far.... it's artistic and pretty to look at like 'The Shining' and it takes place in a frozen place at a hotel.... however, there's no spiritual aspect to it.... and yes, it has a slasher with a mask and whom is gigantic and menacing.... and yes, you'll probably figure out the end long before it happens.... but the ride is so much fun, it really doesn't matter....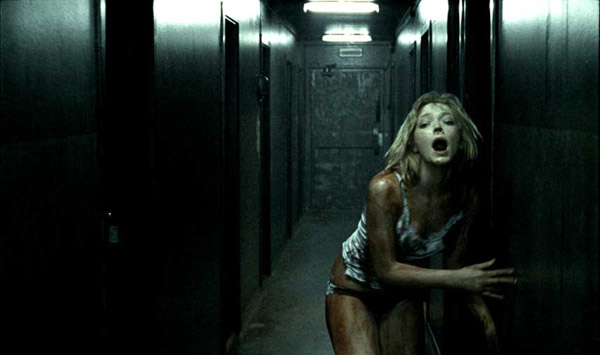 the plot centers around a group of friends out snowboarding on a deserted mountainside.... they figure it's a better idea to do that than to brave the hordes of people at the major ski slopes.... bad idea.... one of the guys breaks his leg and they realize quickly that they're a long way from help.... so noticing a hotel off in the distance, they head over to take refuge.... the hotel is closed and appears to have been closed since the mid 70's.... and they break in so they can keep warm until they can get back to the car and go get help.... little do they know that they're not alone.... and soon they'll find out the hard way....
the pacing and feeling of this movie is wonderful.... it kept me on the edge of my seat for the entire film and i found myself actually caring about the characters.... which is rare in American horror films it seems.... it's more about the kills and the possability of a franchise.... 'Cold Prey' is not original however.... but the source material is presented in such a way that it feels new to you.... i mean, how many time have you seen the masked serial killer slowly killing off the teenagers one by one....? and he keeps killing until one of them steps up and brings the madman down.... maybe i just gave away the story and the ending.... but don't let that stop you from spending the time to watch this movie.... trust me, it's worth it....
this movie is currently available through Netflix OnDemand.... and you should take advantage of that while you can.... if you like your horror a bit more artistic and with a little more feeling to it.... but still with that killer edge.... this is the movie for you.... sadly, the version on Netflix is dubbed (which sucks), but if you can deal with that.... it's a good investment.... however, if that's just too much for you to handle.... rent it and watch it in it's original language with subtitles as it should be viewed.... all in all.... 4 out of 5 stars.... for some reason this movie really stuck with me.... even though i knew the entire story and ending by the first 10 minutes of the film, it just didn't matter....
the sequel is out there, but not readily available yet.... and is getting pretty good reviews so far.... and i can't wait to get my hands on it.... once you're done with this, start looking into other foreign horror.... the French have raised the bar along with the Swedish and now this.... i mean, there's still good stuff coming out right here at home, but don't limit yourself.... it'd be a damn shame to miss out on this one and others....
if you enjoy this movie, check out: 'The Shining', 'I Know What You Did Last Summer' and 'Prom Night'