As a lover of cinema, I watch a lot of stuff. Sadly, I don't have the time, energy or even desire to write reviews for everything I see. Rather than to just continue to let these movies sit on a list, I've decided to post them here with a rating and maybe a little word or two. If you trust my judgement or agree with me on my decisions, then maybe this will be helpful to you in finding some keen new stuff to watch. I think it will also free up my mind a bit to see a much shorter list of things to review in the future. That being said, here we go!
--------
With Great Power.... The Stan Lee Story
I'd say 50% of the world knows who Stan Lee is and I'd say the 100% of comic book fans know who Stan Lee is. What they think about him can differ greatly, depending on whom you talk to. This documentary is a fans look at the man behind the legend. There's nothing really negative here and that's okay by me. Stan Lee is very easy to like, very charismatic and kind of fun. This documentary tells the story of how he became to be the legend he is today. Highly recommended to comic book fans! 4 out of 5 stars
--------
BBC Jonathan Ross: In Search Of Steve Ditko
Now, we move onto another side of the Stan Lee story.... Steve Ditko. Steve isn't nearly as well known to the general public, but to old school and new school comic fans alike, he's a legend in his own right. This is a brief look at his amazing, but short career and his ties with Stan Lee. Jonathan Ross tells Steve's story with honest love and appreciation for his work. This is recommended to those who want both sides of the Marvel Comics story and who love Steve Ditko! 4 out of 5 stars. (There is no trailer, as this was a BBC special. Instead, I give you part 1 that links to all the other parts of the show.)
--------
The Secret Origin: The Story of DC Comics
Finally, here's the history of Marvel Comics #1 competitor, DC Comics. This is a comprehensive look at DC's history and majesty. From Superman to today, this covers it all. Awesomely narrated by Ryan Reynolds, this is a must see for true comic book fans. I really enjoyed this documentary and it rounded out my comic book history lessons. 4 out of 5 stars.
--------
Defendor
From comic book documentaries to a comic book hero type movie. Here we have, 'Defendor', a man who's a little "off balance" and believes himself to be a superhero. This is a movie grounded in reality and Woody Harrelson plays 'Defendor' with zest and heart. I wasn't sure how this would match up to it's peers: 'Kick-Ass', 'Super' or 'Special', but it holds up quite well. It doesn't have as much style as the first two, but it makes up for it with a bit more heart. A good way to spend an evening. 3 out of 5 stars.
--------
The Innkeepers
The director of 'The Innkeepers', Ti West, is really hit and miss with me.... and with critics. He's not consistent enough with his films yet, to be a true contender in the horror genre. He has a lot of style and I think a lot more good left in him. Sadly, it seems that not all of his films are as well thought out as they could be. 'Cabin Fever 2' suffered from the sophomore jinx. 'The House of the Devil' was amazingly awesome and a love story to the 80's horror genre. But 'The Innkeepers' started out strong and seemed to be headed for greatness, however.... in the end, it just fell short. I have huge hopes for his upcoming 'V/H/S' and I think he's just about to hit his stride. Check out this movie, if you like ghost stories, but turn it off before the last 5 minutes happens. You'll thank me later. 3 out of 5 stars.
--------
Heckler
Jamie Kennedy doesn't care for heckler's much and this documentary proves it. He serves as our guide through the world of comedians and their detractors. Not something that I ever need to see again, but it shows a side of the comedy world that only the comedians see. Fun and educational. 3 out of 5 stars.
--------
Mum and Dad
When I'm spending my time looking for something good to watch, I do quite a bit of reading and research. Usually, I have pretty good luck at keeping the crap to a minimum. Somehow 'Mum and Dad' got past my radar. This was pretty much garbage. There is nothing new in this movie that you haven't seen before and probably didn't want to see again. It felt old, re-hashed, boring and lame. I stuck it out until the end, but it never got any better. This is your one and only warning, stay away from 'Mum and Dad'. Watch the trailer and you'll probably see why. 2 out of 5 stars.
--------
Not Your Typical Bigfoot Movie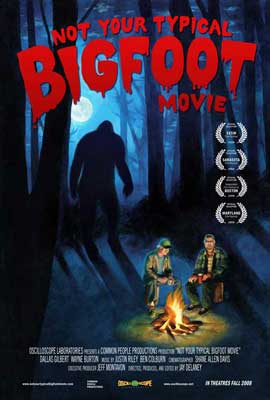 When it comes to bigfoot hunters, these guys take 1st prize. One part crazy eccentrics and one part serious investigators, these two take their fascination with bigfoot to the next level. I couldn't decide if I felt sorry for them or believed every word they said. They had such belief in their research that you can't help but want to think that they knew something the rest of the world doesn't.... that bigfoot is real. Watch it and decide for yourself, but I'll tell you know.... this isn't the most exciting documentary. 2 out of 5 stars.
--------
Burke and Hare
My sister recommended this film and I'm glad she did! I had never heard of it or the real life people it's based on. Not only that, but it starred Simon Pegg and Andy Sirkis and was directed by John Landis! How does this slip by any decent film goers radar? The point is, you've got a built in pedigree with this film, even before the opening credits roll. It's a bit dry and very English in its humor, but don't let that keep you from watching this little gem. It's one of the better black comedies I've seen in a long time and something that was well worth my Saturday afternoon. You need to track down this film. Quotable and extremely fun. 4 out of 5 stars.
--------
Bereavement
The movie 'Malevolence' is a bit of an indie slasher/horror legend. It set a new standard for the quality of horror films that could be created on a tiny budget. I've seen it and found it to be mediocre at best. There were moments of good things, but they didn't outweigh the overall blah factor. 'Bereavement' is the sequel.... in the form of a prequel. It tells the story behind the story and this time.... there's a bigger budget. This movie feels like the director, Steven Mena, is on his way to bigger and better things, but hasn't quite found his voice yet. This movie gets a little tiresome after the first 30 minutes and feels like it keeps repeating itself the rest of the way, until the end. I wanted to really enjoy this, but only ended up feeling like I kind of missed the boat and didn't want to go back to catch another one. If you like the original, you might enjoy this. That's the only reason I would recommend you watch it. 3 out of 5 stars. (For an honest effort.)