As a lover of cinema, I watch a lot of stuff. Sadly, I don't have the time, energy or even desire to write reviews for everything I see. Rather than to just continue to let these movies sit on a list, I've decided to post them here with a rating and maybe a little word or two. If you trust my judgement or agree with me on my decisions, then maybe this will be helpful to you in finding some keen new stuff to watch. I think it will also free up my mind a bit to see a much shorter list of things to review in the future. That being said, here we go!
--------
Special When Lit: A Pinball Documentary
Well, it's a documentary about pinball and the people who play it.... religiously. I found this pretty interesting and fun, kind of similar to 'Chasing Ghosts' and 'The King of Pong', but it helps if you're a pinball player. 3 out of 5 stars and no TILT!
--------
Precious: Based On The Novel 'Push' by Sapphire
I put this film off for a long time and I'm not 100% sure why. I think it was due to the overwhelming hype around it. My goal in watching a film, is to watch it with open eyes and unencumbered by outside influences. (This isn't always the case, but I try.) Overall, this was a depression and still uplifting story. Too bad the title is incredibly egomaniacial.... they could have just included that tidbit of information about the author in the opening credits. 4 out of 5 stars.
--------
The Sci-Fi Boys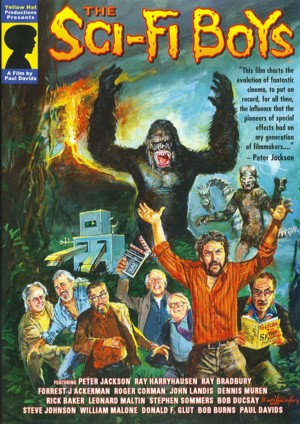 A love letter to all of the originators of special effects in Hollywood. This is a very enjoyable documentary with a lot of great names. Highly recommended. 4 out of 5 stars.
(no trailer available for this movie.)
--------
Paul (2011)
Simon Pegg, Edgar Wright and Nick Frost are quite possibly the best comedy trio to come out in the last couple of decades. I put 'Shaun of the Dead' and 'Hot Fuzz' in the top of the film satire list. Excellent stuff. 'Paul' is written by 2 out of the 3 boys, but not directed by Edgar Wright. I don't know if that's why this movie suffered or not, but it just didn't have the same charm. It may also be that Kristen Wiig was invloved.... I don't get her appeal. All in all, 3 out of 5 stars. Mostly because of Simon and Nick's previous track record.
--------
More Brains! A Return to the Living Dead
A documentary that is longer than the actual film it's about?!?! Unheard of! The reality is, this couldn't have been done any other way. If there was ever a film made for the fans, this is it. I loved every single second of this film. I'm a huge fan of the original film and have seen it more times then I can count. If you dig the dead, you need to see this. 5 out of 5 stars. BRAINS!
--------
Megan Is Missing
Wow. I am still reeling from this one. This movie is a big ol' gut punch, but at the same time, it's not great. It was hard to watch, because of it's extreme low-budgetness and the subject matter is difficult too. There is one particularly hard scene to watch involving a girl being buried alive. Ugh. This one will leave an impression on you for days after it's over.... but that doesn't make it good. I leave this movie up to you. Do you want to see it? 3 out of 5 stars.
--------
The Reinactors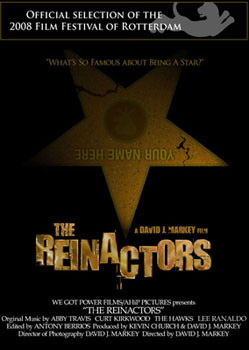 Very similar to 'Confessions of a Superhero'.... but not quite as good. If you haven't seen that one, then watch this one first. A documentary about celebrity impersonatiors in Hollywood. 3 out of 5 stars.
(no trailer available for this movie.)
--------
I Love you Phillip Morris
After watching Jim Carrey on 'Inside The Actors Studio', I decided it was about time to finally watch this movie. A true story about love among men, in and out of prison. Quite an enjoyabe film. 4 out of 5 stars.
--------
The Rock-afire Explosion
Being born and raised in Kansas City, Mo, I was raised on Showbiz Pizza Places. I went many, many times as a kid for many, many birthday parties. There was no Chuck E. Cheese's yet. This is a documentary about the mechinical band that played inside, The Rock-a-Fire Explosion. Everybody who was a fan of them as a kid, should see this documentary as an adult. 3 out of 5 stars.
--------
The Dark Hours
Not a big time release, but that doesn't make it any less of a worthwhile movie. Another take on the home invasion/survival genre and a successful one at that. Basically, a woman, her sister and her husband are all be held captive by two bad men. Some things happen, some people die and then it's over. I dug it. End of story. 3 out of 5 stars.